NWCLA Membership Web Site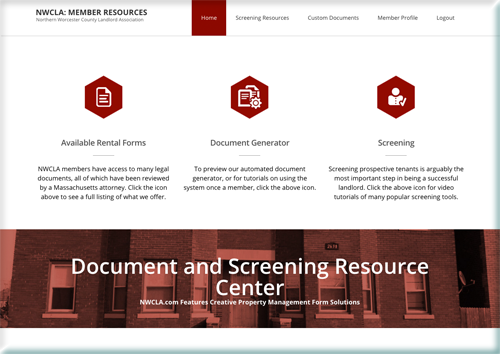 Welcome to the NWCLA Members Site. The membership site has been an ongoing project where we are constantly adding value to being an NWCLA member. We are excited to be able to have this benefit for our membership and all that it can do. We are constantly thinking about new ways to add to this feature to add value to your NWCLA membership.
Kudos and a special thank you goes out to Ron LeShane for implementing these new features to the secure membership web site:
Recent recordings of NWCLA zoom meeting (members only)
Searchable Database of Local Police Arrest Records
Updated lease clauses from Atty Mark Burrell's Top 30 List
With the help of Massachusetts Landlord/Tenant Law Attorney, Inessa Shur of the Shur Law Group we have provided our members with something they have been asking for, for years; Massachusetts Tenant-At-Will and Massachusetts Lease Rental Agreements. These forms are especially written and designed to adhere to and be in compliance with Massachusetts Housing Laws.
HOW TO GET YOUR NEW NWCLA MEMBER ACCOUNT
To get an account on the members site, please complete the "Request and Account" form. A link is at the bottom of the members only website, or you can access it directly here: https://nwcla.stopskip.com/members/request-an-account/.
Once that comes through, and we are able to verify your paid NWCLA membership, we will be able to get your account set up for you. Please be patient with us as we ramp up on this new process. All of your NWCLA board members are unpaid and are volunteers.